From the Sun Newspapers
September 1, 2016 Issue
To the editor:
Early this election season, Deb Calvert stopped by my home to talk about why she was running for state senate. Like many of you, I've grown cynical of politicians who say they'll reach across the aisle but then tow the party line when elected, so I did my research…
Fact: Deb Calvert has already demonstrated that she will listen to all voices by selecting a Republican, former Mayor Karen Anderson, and a Democrat, former State Senator Steve Kelley to co-chair her campaign. Both are highly respected and well-known for working hard for their constituents, regardless of party affiliation.
Fact: Deb Calvert has earned the endorsement of U.S. Senator Amy Klobuchar and our retiring State Senator Terri Bonoff – both women of exceptional character who have shown it's possible to put people before politics.
Fact: As the parent of adult children who attended our public schools and are now dealing with the hurdle of skyrocketing college tuition, like I am, Deb Calvert has the life experience that helps her understand the issues important to all Minnesotans – keeping our public schools top in the nation and making college affordable and accessible.
Fact: As the former owner of successful small businesses, Deb Calvert knows how important it is to create a business environment that fosters innovation and entrepreneurship. When she says she'll help small businesses by cutting red tape, giving incentives, and cutting taxes, I believe her.
Fact: On November 8th, this Minnesotan will be voting for Deb Calvert because the research shows that she's the candidate who will put people before politics.
Caitlin DeVos, Plymouth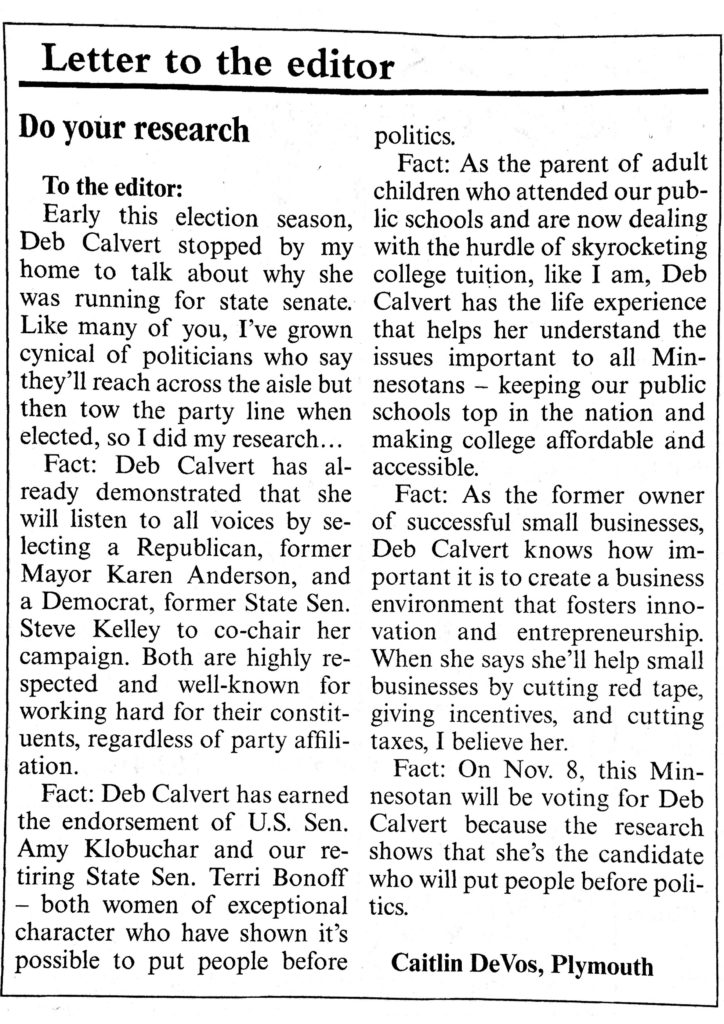 PREPARED AND PAID FOR BY THE DEB CALVERT FOR STATE SENATE COMMITTEE ▪︎ 3814 BAKER ROAD ▪︎ MINNETONKA, MN ▪︎ 55305