From the Sun Newspapers
September 8, 2016 Issue
Being a long time teacher, I know the importance of a good education, the value it brings and the struggle some endure to get there. I'm voting for Deb Calvert for Senate District 44 because she knows that our Minnesota State Constitution mandates only two things: public education and transportation, and she knows that we will only have a strong economy with a well-educated workforce.
Our students are the engine that will drive our economy and steer the course of Minnesota. Deb Calvert is the SD44 candidate who understands that strong public schools are the fuel for this engine. Calvert has pledged to champion stable funding for public schools, and make sure our tax dollars are spent wisely on a 21st Century education. She has already proven herself as an advocate for our children through her tireless involvement in the Hopkins Legislative Coalition, along with Terri Bonoff.
We are lucky to have strong K-12 schools here in the western suburbs, but Deb Calvert believes all Minnesota students deserve the tools they need to succeed. She wants to continue to invest in affordable, accessible quality early childhood education, of which I have considerable experience. She believes the better way to close the achievement gap is targeted scholarships that give a boost to those children most at risk for falling behind.
Calvert has personal experience with higher ed and the financial burden it entails. She is the proud parent of two young college educated taxpayers, both also products of our local public schools. Like many, Deb and her husband invested in their kids' college tuition, yet her children still carry a heavy debt load. Deb believes that our state can do better. Students should be able to work their way through school, not emerge with crushing debt that ironically inhibits the very future they are working so hard to achieve.
Every Minnesota student has the potential to fuel a healthy Minnesota economy; we can only truly tap into that energy by electing senators like Deb Calvert, to help students like mine.
Doobie Kurus, Minnetonka Resident and Hopkins School Board Member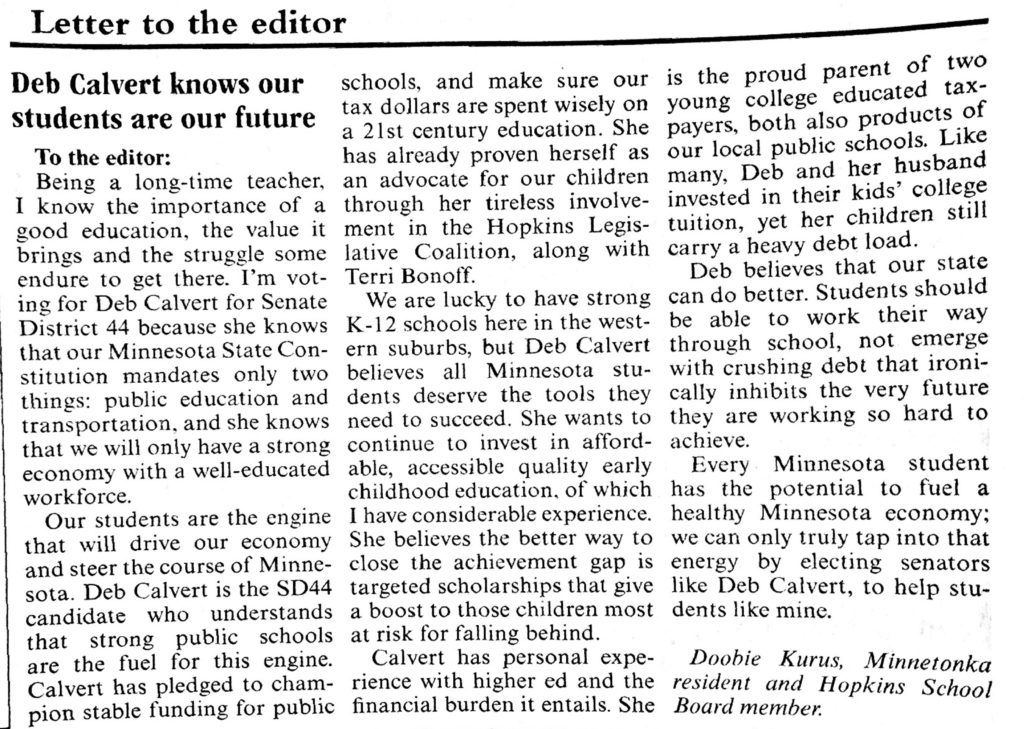 PREPARED AND PAID FOR BY THE DEB CALVERT FOR STATE SENATE COMMITTEE ▪︎ 3814 BAKER ROAD ▪︎ MINNETONKA, MN ▪︎ 55305